"I had no desire to become a salaryman after my graduation." 1
1.0 JAPAN'S ECONOMIC - SOCIAL STATUS
Japan is going through a period of transition, struggling to overcome its shrinking economy and is still recovering from the devastating earthquake, tsunami and nuclear disaster of 2011. To be able to see the way out of these phenomenons, a deeper look at social and economic systems is needed.
What the last two decades shows us in Japan's economic and social status is that the long-believed lifetime employment system of white-collar workers (salarymen) loses its power, and more and more groups of the social range find their future somewhere outside the system.
By Japan's society gradually becomes older and older, the political representation of the younger generations gets weaker, which makes these people protest against the system in many different ways (school non-attendance, irregular workers, freeters, hikikomori, NEET...)
Other unsolved problem is the working-women's case: although women share 48% of university graduates, only 67% of them are currently employed, usually in low-paid, part-time, "office-lady" roles. An extra disadvantage of theirs is the yet problematic question of childcare.2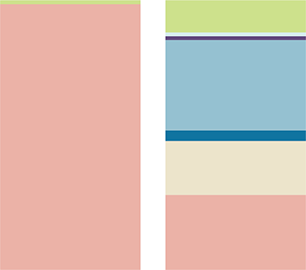 Non-regular workers - 34.0%
Non-satisfied with their jobs - 20.0%
Fig.1 Employment rates in Japan3
*Although not the same data was recorded in 1960 and 2005, it shows that employment rates sophisticated in the last decades.
2.0 NEW NEEDS IN WORK / LABOUR MARKET
"This (startup-business) is the beginning of something that could rejuvenate Japan. Entrepreneurship is Japan's last chance." 4
Mitsuru Izumo
"Although Japan has a long tradition of entrepreneurship in blue-collar trades like manufacturing, it has had only limited success in extending that to more knowledge-based industries like software or computing, at the forefront of the digital age and where competitors like South Korea have sped ahead." 5
"The Ministry of Health, Labor and Welfare estimates that 70 percent of junior high school graduates, 50 percent of high school graduates and 30 percent of college graduates now quit their jobs within three years of leaving school. Many young people mistrust big corporations after seeing their fathers or uncles eased out of ''lifetime'' jobs." 6
"Having grown up immersed in an online world that stretches beyond national borders, young Japanese appear more willing to draw inspiration from foreign role models like Steve Jobs, the founder of Apple. And having seen Sony cede market share to South Korea's Samsung, many no longer share their salarymen fathers' belief in the permanence of established corporations or lifetime jobs." 7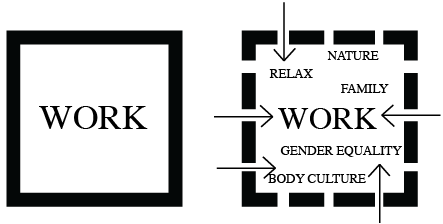 Fig.2 New needs in a workplace
As we can see, the latest trends, the newest predictions in economy show a shift in labour market from the fix, rigid corporation-ruled business life to a more flexible, human centered entrepreneurship system.
3.0 INTROVERTS AND EXTROVERTS
1/3 - 1/2 of the population claims that they are introverts.
Architectural design, especially in case of office designs, where many kind of people share common space and time together, ought to reflect on individual's psychological needs, because the design of the workplace impacts performance, employee engagement, and innovation.
A survey8 shows that 95.3% of office workers need access to quiet, private places for concentrated work. 41% says that it is not available at their workplace.
When employees could not focus individually, collaborate work was also less productive.
Companies, that allowed flexible work hours, opportunity to work from home, and provided a variety of spaces, happened to be much more productive, boosted growth, and staff turnover also reduced.
Gensler's design recommendations9 are as follows:
1. provide effective focus space
- satisfactory noise level
- funcionality
- design look & feel
2. collaborate without sacrificing focus
- meeting space
- in-office amenities
- circulation & support space
3. drive innovation through choice
- variety of spaces
- variety of tools
- policy
4.0 BUSINESS INCUBATORS
This project shows a solution focusing on education. The aim is to support young professional individuals, who have the talent and knowledge to improve their original ideas to a success in business. The confidence and the experience of responsibility they need to do so is approachable by giving them positions, where their ideas are considered and valued.
A business incubator is a place where these conditions are provided.
This should be a place, where people, who have ideas, can gather, a place, which stimulates them, a place, that supports extroverted and introverted people and work processes and a place, that erases the idea of uniformed workplaces.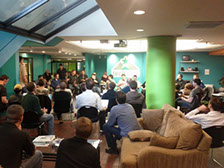 Fig.3 Y Combinator, California, USA
ch=3,00 m - group meetings, presentations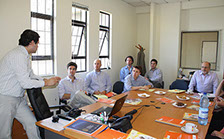 Fig. 4 Y Combinator, California, USA
ch=3,00 m - group meetings, presentations,
discussions, smaller groups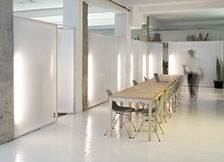 Fig. 5 Studio Banana, Madrid, Spain
ch=3,20 m - private office spaces, meeting
space
Fig. 6 Y Combinator, California, USA
ch=3,20 m - co-working space, meeting space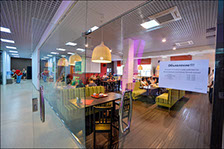 Fig.7 Akadempark Business Incubator,
Russiaí ch=3,50 m - office space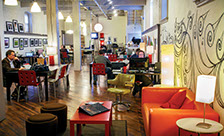 Fig. 8 Camp 4, Utah, USA
ch=4,00 m - co-working space, lounge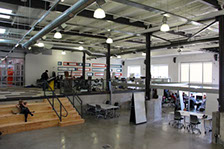 Fig. 9 Velocity Garage, Waterloo, Canada
ch=5,00 m - co-working space,
meeting space, showroom
the space is divided in section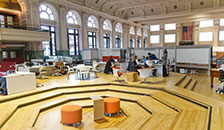 Fig.10 Gangplan, Arizona, USA
ch=7,00 m - co-working space,
meeting space, showroom, auditorium
Target Groups:
- technology startups
- business startups
- design teams (product, graphics, fashion)
It offers:
a) Vivid intellectual environment
b) Management:
- financial, accounting help
- PR, marketing
- logistics
- export trade help
- loans, investments, developments
- legal support
c) Physical infrastructure:
- space for work
- telephone, internet
- green energy consumption
- relaxation and sleeping
People in the house:
- entrepreneurs
- engineers
- hackers
- venture capitalist
- web developers
- web designers
- designers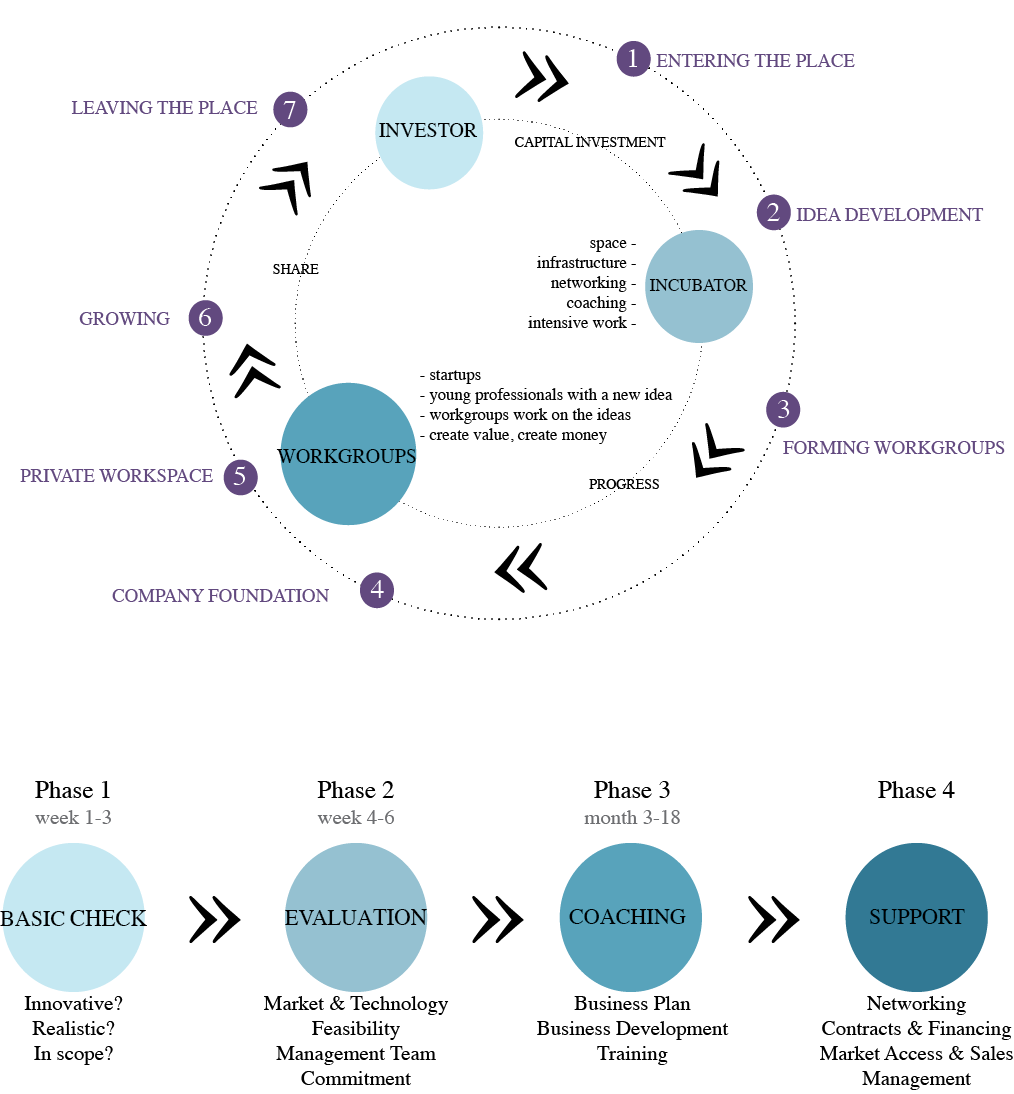 Fig.11 Incubation process - work processes and time schedule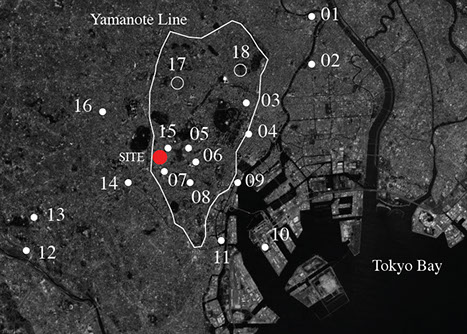 Fig.12 Business incubators in Tokyo
(01) Shirahige Nishi N&R Center (02) Social Incubation Office Sumida (03) Venture Kanda (04) Venture Generation (05) CyberAgent Ventures (06) Movida Japan (07) KDDI Mugen Labo (08) GREE Ventures Tokyo (09) Tokyo Life Science Incubation Center (10) Time 24
(11) Samurai Startup Island (12) Incubation Office TAMA (13) Infinity Venture Partners
(14) Voyage Ventures Partners (15) Global Brain (16) Tokyo Contents Incubation Center
(17) Waseda University (18) University of Tokyo
5.2 LOCATION - EXISTING MERIT OF THE CITY
One of the main concerns in case of a business incubator and its work efficiency is whether it is properly located in the city. One group of these incubators are located in far away distances from the city centre in order to provide a hermetic workplace and reduce cost.
The only condition these places cannot fulfil is the SOCIAL INTEGRATION of the new companies. This is the reason why a new wave of business incubators are located closer to the city centre or to other cultural, financial hubs in the city.
Another purpose of locating this incubator in Shibuya, Jingumae is to get advantage of the already existing urban functions in the area, such as sport facilities, parks, kindergartens, schools, banks. Having these in the vicinity of the incubator helps improving work efficiency, networking, or solving problematic social issues, like the working women's case.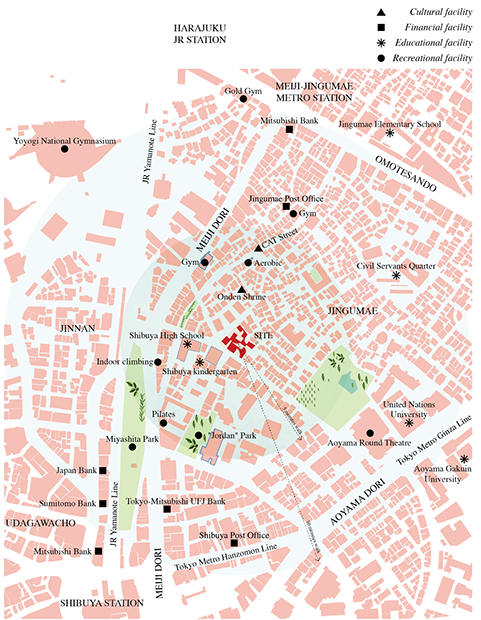 Fig.12 Shibuya, Jingumae area functional mapping

Fig.13 Panorama from CAT Street

Fig.14 Panorama from the next parking site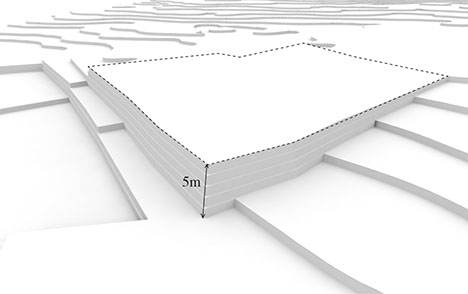 Fig.15 Existing topography on the site (5m high car-parking terrace)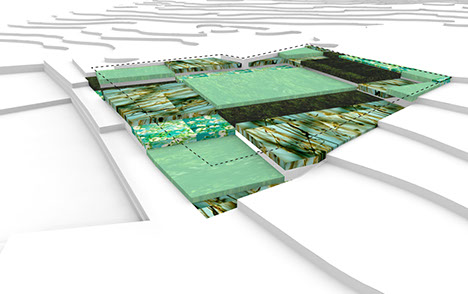 Fig.16 Proposal: terraced topography
The now existing parking lot terrace is being deconstructed to a terraced landscape in order to have the site smoothly integrated to its urban environment. This solution also enables the visitors to approach the site from any possible directions.
6.1 LANDSCAPE OF ACTIVITY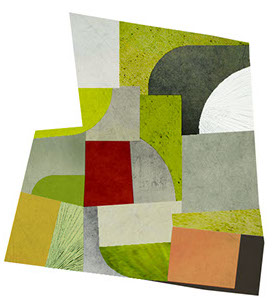 Fig.17 Landscapes - texture and colours on the site
"Landscape" primarily refers to the diversity of textures, col- ours, greenery and topography of the site. Although the site is divided into indoor and outdoor spaces, the communication between those is enhanced by several openings on the ground floor. The construction of the rooftop reflects the design of this terraced landscape, and provides a horizontal and vertical in- door-outdoor circulation through the entire building, so that the whole landscape can be enjoyed for recreational purposes.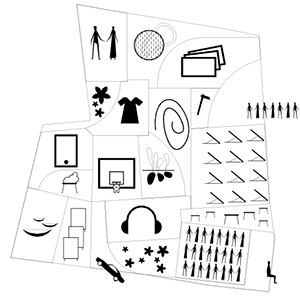 Fig.17 Landscape of activities: a metaphore
The site is not only constructed with different textures and greenery, but it also includes the diversity of the activities of the startup companies. This is what the metaphorical phrase "land- scape of activities" represents.
Therefore, this landscape of the site always changes, whenever the companies move in and out. Each company occupies one part of the site, where its private office is located. The textures, furnitures, accessories around them can also change, which en- riches the greenery landscape.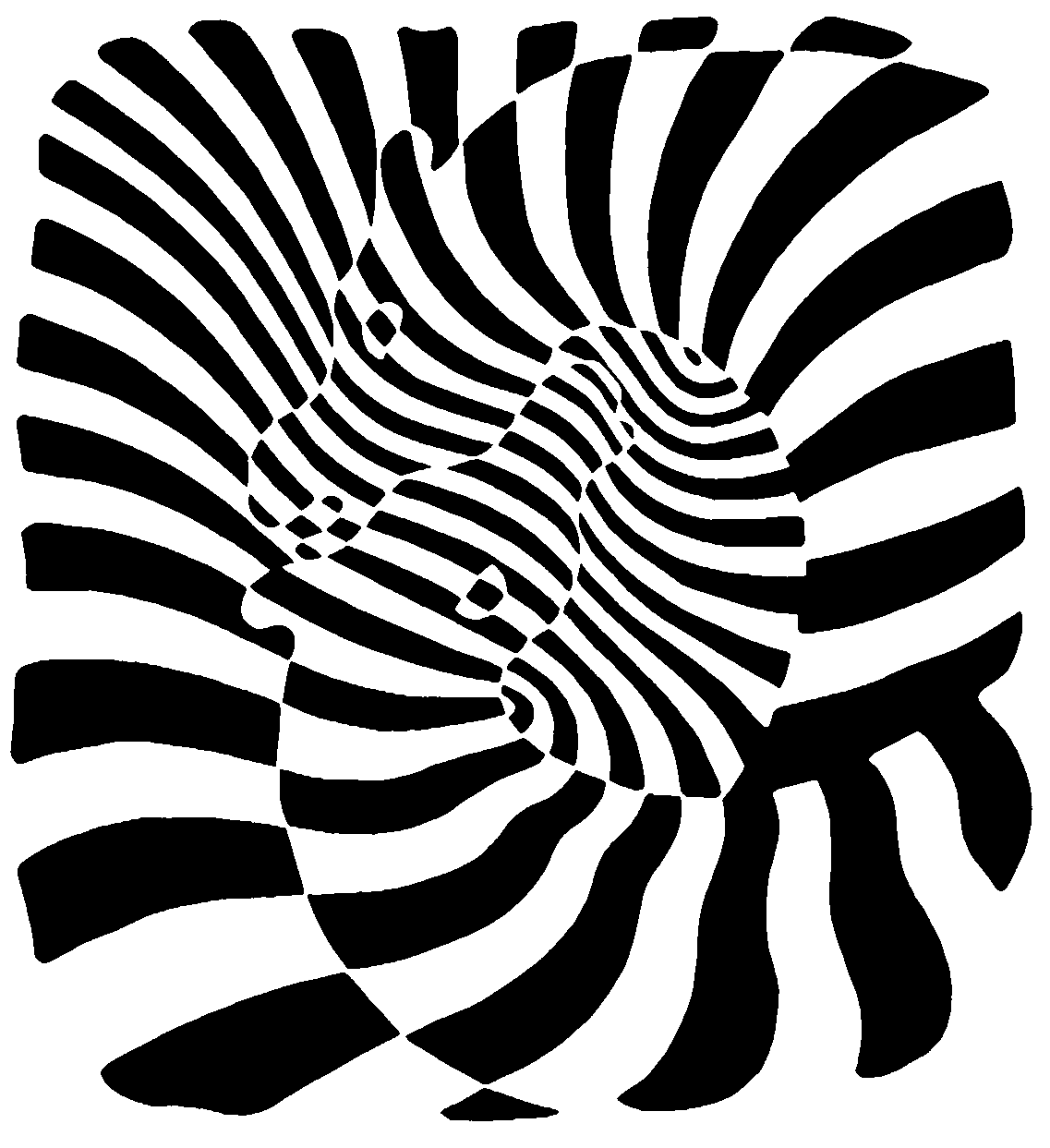 Fig.18 Victor Vasarely: Zebras (oil painting)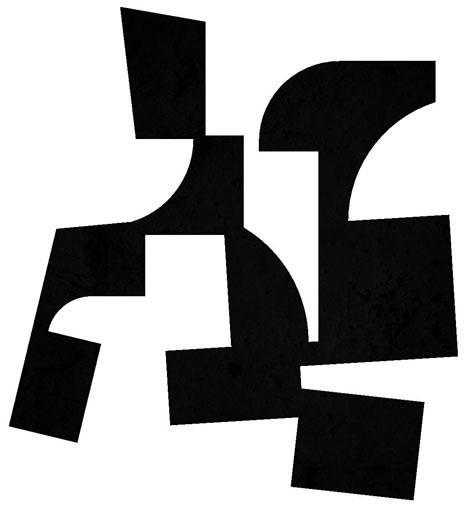 Fig.19 Volumes of building and garden
Garden and building supplement each other in this composition, each of the spaces are designed by the same aspects, so that a part of the garden can be considered as a room with outdoor activities. This principle strengthens the idea of the "landscape of activities", where all the activities are equally respected, recreational activities are as important as other work-related intellectual activities.
(1) Akira Yamauchi @ Start-Up Spirit Emerges in Japan
Martin Fackler, International New York Times, 2013/12/25
(2) Japan's Working-Women Problem, Sylvia Ann Hewlett
TIME, 2011/12/11
(3) Japanese Ministry of Health, Labor and Welfare,
White Paper on Labor Economics, annual report, 2005
(4)(5)(6) Start-Up Spirit Emerges in Japan
Martin Fackler, International New York Times, 2013/12/25
(7) Young Japanese Breaking Old Salaryman's Bond
James Brooke, New York Times, 2001/10/16
(8)(9) 2003 U.S. Workplace Survey, Gensler